Characteristic of Salgar are our ongoing alternatives for bathroom spaces that identify with your tastes, lifestyle and provide solutions for your needs.
Therefore, to adapt to your needs and your own style, we have designed Compakt, a product putting all the 70 years of experience of Salgar at your disposal: through its innovation, simplicity and elegance.
This series is customised with several alternatives: an integrated sink, ceramic semi-recessed sink or a countertop sink.
It is manufactured with a material capable of withstanding the most demanding uses, without losing the aesthetic appearance or functionality this custom designed product is noted for.
The main advantage of this customised series is its complete adaptability. Because they are individual pieces, they fit perfectly in the space available in your bathroom, providing personality and a singular touch.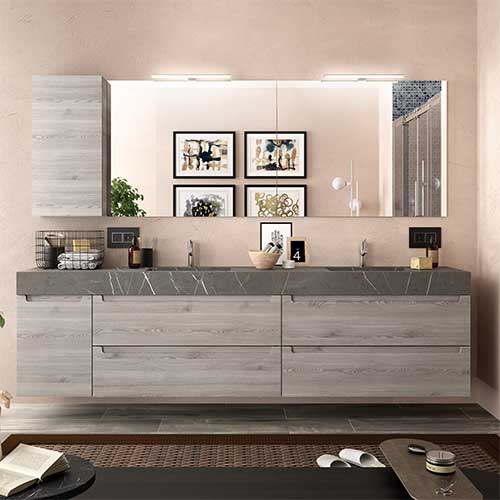 ¿What qualities does the Compakt have?
All Compakt series countertops designed by Salgar are of the best quality, due to being manufactured with HPL panels of the highest quality. They are resistant to the most demanding uses of our customers, without ever losing either their aesthetic appearance that sets them apart or their functionality, typical of a custom design.
Among its many qualities are that it is hydrophobic, antibacterial and dirt repellent, as well as being resistant to wear and cleaning and disinfectant products.
A luxury item with different depths
We offer you options up to 2.5 m in length and 2 depths (46cm/ 51cm), as well as being able to install the countertops at different heights, to adapt 100% to your needs and those of your loved ones.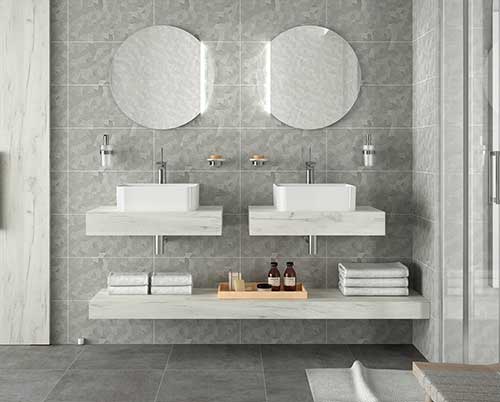 Countertops in 5 finishes!
The countertops in the Compakt series are available in 5 exclusive finishes: Arctic oak, African oak, cement, grey stone and white marble.
The Compakt series countertop in African Oak will be a distinctive point in your bathroom, being a wood full of personality whose textures and golden finishes will transport you to an African savanna sunset.